Hannah Lowe was born in Ilford to an English mother and a Jamaican-Chinese father. She has lived in Brighton and Santa Cruz, California. She studied American Literature at the University of Sussex and has a Masters degree in Refugee studies. Currently she lives in Brixton and teaches literature at a college in Islington. Her poems have appeared in Ambit, Acumen, Magma, Rising, Smiths Knoll, The Delinquent, The North, The Rialto. Her poems have also won prizes, commendations or been shortlisted in a number of competitions including Aesthetica Creative Works, The Arvon International, Bridport and Sentinel Literary Journal. 'The Hitcher' is her debut collection, published by The Rialto as their fourth Bridge pamphlet.
 You can also catch her at Cley Little Festival of Poetry on May 28th.
-------
Hi Hannah, thanks for stopping by and agreeing to chat with us. Please make yourself at home.
Hi Jen. Thanks for having me!
I've just pre-ordered a copy of your poetry pamphlet 'The Hitcher', and I'm looking forward to it arriving on my doormat. I really enjoyed your poems 'Fist' and 'Caterpillars' in the most recent issue of the Rialto, and I spied your poem 'Chloe's Phantom' over on Ink, Sweat and Tears, and 'Ink' [which I love] which came second in the SQL competition:
'Tor's off to The Night of the Senses' annual ball to collect her award./We buy a sailor's hat, a corset, seamed white fishnets/ from a market stall in Elephant.'.
So, what can we expect from 'The Hitcher'?
The poems in the pamphlet are mostly directly or tangentially related to my life, but are really concerned with experiences we all have: love, the loss of love, happiness, grief. I would say there's a strong emotional content to my writing, which often revisits the past. Some poems go back to my childhood, when my father was alive, and re-create moments in our relationship. This said, my poems aren't all sad and serious – the tone is sometimes ironic and often self-deprecating.
I grew up in the bit of Essex that borders east London, and have lived in or around south London for the last 15 years. That urban context is certainly there in my writing – the city is the backdrop for many of the poems.
In terms of style, some poems are free verse, but others are more traditional in form. I'm particularly drawn to writing in terza rima. There's a few poems about journeys in the pamphlet that use this tumbling rhyme scheme to create a sense of movement.
How long has it taken to write, from the first poem in the collection you wrote to the last?
Funnily enough, the title poem "The Hitcher" was the first poem I wrote, the last in the collection, and the first poem that received magazine publication . That was in the summer of 2009. The most recent poem is "English Widows in Beautiful Gardens", written last Autumn. So just over two years all in all.
Could you pick a favourite poem out from your pamphlet, give us the story behind it, what inspired you to write it, and give us a sneak preview with a couple of lines?
"Those Long Car Silences" is a poem that is important to me. I often regret that I didn't talk to my father more about his life when he was alive. We spent hours in the car together - him giving me lifts to places, or driving to see family on the other side of London, or on errands. Often when I think of him, or dream about him, he's waiting in the car for me, smoking a roll-up. But we rarely talked, sat side by side together in the car. Here are the opening lines:
All those long car silences, the miles and miles
you drove me through this city, strange words
lit up in neon, Lucky House, The Taj Mahal, Halal
I kept my voice held back for nothing
but to punish you. I see us from the outside now
Poetry has allowed me to go back and in some ways, give us both a second chance. At the end of the poem, I dream myself as an adult and my dad still waiting for me in his car, but the silence is comforting and familiar, rather than wasteful.
When did you first start writing?
I started writing relatively late, around four years ago. I'm 34 now. I was teaching an anthology of poetry for A level English, and found myself more and more drawn to reading poetry, and then wrote one or two myself. I found writing really pleasurable and exciting. Surpisingly so. I signed up for a course at the City Lit, and went from there. I often feel regretful that I didn't start writing earlier, in my twenties say. But I also think my life experiences brought my to writing, and that it wouldn't have happened in any other way.
When an idea for a poem first comes to you, what form does it normally take? An image? A phrase? A memory?
Ideas for poems come to me in all sorts of way, but most commonly they are sparked off by reading other poems. I often find I'll read a line from a poem and an idea will jump into my head not necessarily related in subject matter, but perhaps in tone or voice. This, for me, is an essential facet of writing poetry. If I want to sit down and write, the first thing I do is read.
Which poets have inspired you most?
The American poet, Philip Levine is by far my biggest inspiration. He's in his eighties now. His subject matter attracts me. He has often written about the lives of the industrial poor in Detroit, his hometown. He also writes beautifully about his childhood and family. He has such a distinctive voice, rendered so naturally, although I suspect I lot of work goes into creating that effect. I'm a great fan of American poets – CK Williams, CD Wright, Charles Simic, Stephen Dobyns, Jack Gilbert. Anne Sexton's confessionalism certainly had a big impact on me when I first read her work.
Many of my poems tell stories and I've looked to the poetry of Michael Donaghy to learn about narrative. I have a tendency to be too wordy, so I try to read sparer and more distilled writing for inspiration. I love the lyric poetry of John Glenday, the Scottish poet, for example.
Part of the focus of my current writing project is on Jamaica so I've been reading as much Caribbean poetry as I can get my hands on. Derek Walcott, of course, and James Berry, but also younger poets like Kei Miller, Tanya Shirley and Christian Campbell, the Bahamian/Trinidadian poet who won the Aldeburgh First Collection Prize last year.
What do you consider to be your greatest achievement to date?
I'm very pleased to have had my pamphlet published by The Rialto. That's a great achievement for me. I've won a few prizes too, and that's been very satisfying. I feel my greatest achievement, however, is learning how to write poetry. I'm still learning, but writing has become a little easier for me – still challenging, but I feel I have more tools at my disposal now. Learning how to write metrically and formally have been key for me. It's hard work, learning to write, but deeply pleasurable too.
What do you think's special about 'The Rialto'?
I think the Rialto is a great poetry magazine that publishes a good mixture of high quality poets, both well known and new. I think there's often great heart in the poems that Michael Mackmin, the editor, chooses for the magazine. It's also an innovative publication. For example, the last two issues have featured a special selection of poetry by poets under 35. The magazine is beautifully produced too. I've been really proud to have my poems in there.
On our book forum we have a Book Tree, where members choose their favourite books and post them round to the other members in a circle, so that when they get their books back their copy is filled with comments from everyone who has read it. If you took part in our Book Tree, what book would you choose, and why?
Ah, that's a hard choice! There's a few poets I always go back to – one is Jack Gilbert, an American poet, although he lived for much of his life in other places, often in seclusion, and has published rarely. His writing is characterised by a simple lyricism and clarity. He writes very powerfully about his life, describing himself as a "serious romantic". His poems about relationships and how they end are incredibly powerful. I think the simplicity of his writing has a broad appeal – I'd love to know if other readers are as affected by it as me. The book I'd choose of his would be "Refusing Heaven" published in 2005.
And, finally - what are your plans for the future?
I'm currently working on a manuscript that I hope will become a first full collection. It's based on the life of my father who was half Jamaican, half Chinese and came to England in 1947. He worked for most of his life as a croupier and gambler in the East end of London, so I'm writing poems about Jamaica and migration and gambling! I've been doing lots of research. It's a very interesting time for me.
Thanks Hannah, and good luck with your manuscript!
** Since this interview, I have received and read The Hitcher, which I thoroughly, thoroughly recommend.
---
Hannah Lowe's poems are hugely enjoyable, full of life as it is really lived, and manage to be completely unpredictable and yet at the same time utterly inevitable. She is an immensely talented writer, and this is an outstanding first collection.
– Peter Sansom
Hannah Lowe is a wonderfully evocative and lyrical writer. She handles form with an easy confidence but she is also a refreshingly able storyteller. With the publication of this pamphlet, Lowe will surely be recognised as one of the most exciting new voices in British poetry.
– John Glenday
Every now and again there arrives at a poetry magazine a poem that clearly announces a new voice. At The Rialto I think immediately of Peter Sansom's 'The Fox In The Writing Class' or Clare Pollard's 'The Heavy Petting Zoo'. 'Fist' which starts off Hannah's pamphlet is another such work. 'Here' it says 'is someone with something to say, and in brilliant command of the means of saying it.'
– Michael Mackmin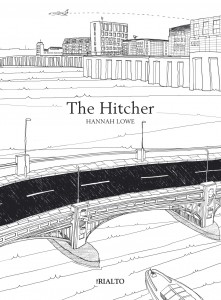 You can buy 'The Hitcher' for £5.50 including delivery by clicking here
-------
You can also subscribe to The Rialto for £19 for a year's subscription, by
clicking here
.