Some poetry collections I've read in the past month which I'd particularly recommend.
'It was before or after I bought the white halter,
I don't remember, but that summer I went platinum.
For ten bucks more, they rolled it and set me under
a dryer facing the street.'
[
Extract from 'Elegy for My Old Urgency'
]
Mistaking the Sea for Green Fields
- Ashley Capps
----
'...or, maybe, she's not out of the woods yet
and her hair went white,
slim-picking through the neighbourhood bins.
In Prague, an astronomer saw a light in the sky
and christened it for her
- and his mystery blonde girlfriend - '
[
Extract from 'The Goldilocks Variable'
]
Birdhouse
- Anna Woodford
----
'The sheep bow their heads
because they must go away
indefinitely. They are tired
of the sky resting on their backs'
[
Extract from 'Wool'
]
Reveilles
- Nathan Hoks
----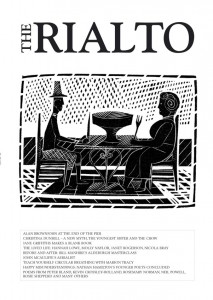 'This afternoon I lie about new steps
I've learnt or old ones I recall. I go
into your arms like this, sticky with deceit.
Learning, you must be led and so we dance
across the lines I've traced into the rug...'
[
Extract from 'Caterpillars' by Hannah Lowe
]
Rialto 71
- literary magazine. Ed. Michael Mackmin.
----
'A child is a clay piggy-bank
shaped as a cat or a pig
with its back rough or smooth,
and a narrow slot in the head.'
[
Extract from 'Five Poems' by Vera Pavlova
]
Poetry London Spring 2011
- literary magazine. Ed. Colette Bryce.
---
& most of all, this beautiful collection which I completely fell in love with.
'Fires across the coin. Elements move through. Conkers - from
conquer. Her coats sold for daughters.'
[
Extract from '46.'
]
'Clear water in a glass. Enters the mouth through the ear.
[
Extract from '49.'
]
'When I put my head under water where does the ocean go?
Will you take a picture of me there? On the ledge? Or the sun?'
[
Extract from '26.'
]
Folklore
- Tim Atkins
---
Go forth and source these gems! And if you have any recommendations for me, please do shout out. I'm just about to get my teeth into The Hitcher, by Hannah Lowe. Who, actually, will be over here next week for a chat. x