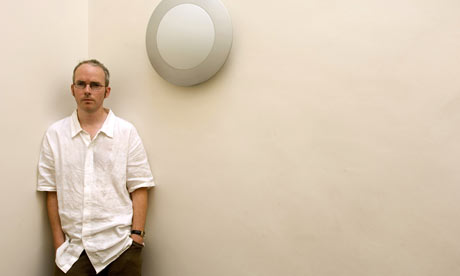 Jon McGregor was born in Bermuda in 1976. He moved with his family to England and spent his childhood in Norwich and Thetford, Norfolk, later studying at Bradford University for a degree in Media Technology and Production. He started writing seriously during his final year at University, contributing a series entitled 'Cinema 100' to the anthology Five Uneasy Pieces (Pulp Faction). He has had short fiction published by Granta magazine, and a short story entitled 'While You Were Sleeping' broadcast on Radio 4.

He left Bradford for Sheffield, then Nottingham, taking a series of shift-jobs to support his writing, and wrote his first novel, If Nobody Speaks of Remarkable Things, in Nottingham, while living on a narrowboat. His novel has received much press attention, as he was the youngest contender and only first novelist on the longlist for the 2002 Man Booker Prize. It went on to win the Betty Trask Prize and the Somerset Maugham Award and to be shortlisted for the Commonwealth Writers Prize (Eurasia Region, Best First Book) and the Sunday Times Young Writer of the Year Award.

Jon McGregor's second novel, So Many Ways To Begin, was published in 2006. His most recent book is a third novel, Even The Dogs (2010), and most recently he came second place in the BBC National Short Story Award 2010, with his story 'If it Keeps on Raining.'
----
--------
Hi Jon, thank you so much for stopping by for a chat, we know that you're a very busy man and we appreciate it. Please make yourself at home!
Thanks for having me. This is a very comfortable chair. Let's get started.
So, the paperback version of your latest book 'Even the Dogs' comes out this month. How would you some it up for those who haven't yet read it?
It's about a man who gets found dead in his flat, and about what happens to his body after the police break down the door; it's also about the lives of the people who should have been with him when he died, and about what's happened to them. It's set in the context of heroin addiction, heavy drinking, homelessness and social exclusion etc, but it's not a book about these things; it's a book about a dead man and his friends.
On the 'about' section of your website, it says '[In 2008 Jon] finished a first draft of Even The Dogs, initially by mistake.' Intriguing! How by mistake?
I wrote the last line of what was supposed to be the 5th of 6 chapters, but it was so clearly the last line of the book, and a line which would pull the story together thematically, that I had to then find a way of making that the last chapter. The thing with writing fiction is that it's nice to have a plan, but the plan never works out.
When it comes to writing novels, how do you approach it? Are you grabbed by a plot idea, or by a particular character, do you plan?
It's been different every time, so far. With this book, it was the image of Robert lying dead on the floor of his flat, waiting for the police to break down the door. I worked outwards from that - the room, the street outside, the weather, the people who were waiting for the police - until I realised that there was enough story and texture and tone for a novel.
With If Nobody Speaks of Remarkable Things, I had lots of fragments of stories - scenes and characters and dialogues - and I knew I wanted to write something which would be a composite of those and would build a bigger picture, and it was a case of looking for a structure to build that around.
With So Many Ways To Begin, it was the character of David, and the oddness of his love for museums, and the mystery of his own origin story - and then the character of Eleanor, who I already knew a lot about from her brief appearance in If Nobody Speaks. Putting the two of them together seemed like more than enough for a novel.
All of which is by way of saying that there's no pattern to it. You write something that feels unfinished, and then you try and finish it.
What would you say is the most challenging thing about being a writer?
I don't think I can answer that. It's not exactly coal-mining.
Could you tell us your 'from writing/to pitch/to publication' story for your first book?
Well, there was no pitch. My first book was actually Cinema 100, a short collection of very short stories (100 x 100 word stories, to be exact), which I wrote in my room at university, sent off to some publishers, and after a couple of years had published in an anthology by Pulp Faction. After that I wrote a collection of long stories (4 x 10,000 words) and sent it off to some agents. One of them took me on, but the book was never published. They suggested I write a novel. I did. Everyone except Bloomsbury turned it down.
I know, it's really not a very dramatic story. But I think that's the point. It is still the case that people in publishing are constantly on the look-out for very good new writing. The trick is to do the very good new writing first, before you think about how to get it published.
You were awarded second prize in the BBC National Short Story Award last year [congratulations!]. What does short story writing mean to you?
Short story writing is writing. Novel writing is writing. Some stories naturally deserve one form or the other. The appeal of short stories to me, both as writer and reader, is that the short story is almost inevitably read in a single sitting; this means that it can be read more attentively, and that subtle affects of connection and resonance and omission can be more effective. It also means that a short-story can be re-read and studied much more readily. All of which creates a much more powerful relationship between the writer and reader, and a more intense experience (at best).
Also, thanks.
How do you juggle family life and writing? What is your writing routine? Has your writing changed since you became a father yourself?
It doesn't fit with the romantic idea some people have about literary production, or any form of creative work, but my writing is a day job. A desk job. I have an office, with a desk, and I go there during office hours. So juggling work and family is no harder for me than for anyone else. There are times when I'm particularly preoccupied with a certain project, and those are times when I'm probably not much fun to be with, but again I'm sure that's the same with most jobs that involve any level of thinking - you don't always switch off when you come home.
All that guff about "the pram in the hall" is just tiresome male responsibility-shirking. James Kelman writes excellently on this in an afterword to the reissue of An Old Pub Near The Angel.
Which writers have inspired you over the years and why and, if you could have a heart to heart with any writer, past or present, who would you pick?
James Kelman, Alice Munro, Don DeLillo, A.L. Kennedy, Richard Brautigan, Alice Oswald, John McGahern, David Foster Wallace, Maile Meloy, Charles Simic, Lydia Davis, Colum McCann, Tom Gauld, Marilynne Robinson...
I don't know about a heart to heart, but a glass of Powers in John McGahern's kitchen would have been nice. Or a tour of a second-hand bookshop with David Foster Wallace.
If you could give just one piece of advice to an aspiring writer, what would it be?
Read more. Read more widely, more deeply, more attentively. Work out how the writers you like are doing what they do. Copy what they do, and then change it until it's your own. I meet lots of new writers who say they try not to read too much because they're worried about being influenced - I said the same thing once, I'm ashamed to admit. Being influenced is a good thing! Reading is the best way to learn how to write. Read more. Go to your library and read.
On our Book Forum, we have a Book Tree, where members choose their favourite book and post them round in a circle, so everyone reads each one and writes comments in them as they go. If you were to take part in our Book Tree, what book would you choose and why?
Probably John McGahern's That They May Face The Rising Sun, because it's still not as known or as recognised as it should be. It's the finest novel from one of Ireland's greatest writers; that should be worth reading, shouldn't it?
Most definitely! And, finally, are you able to tell us what you're working on at the moment, or is it a secret?
It's usually a secret until about now; I've just sent off the first draft of a collection of short stories, which will be published in Spring 2012. They're set in Lincolnshire and the Fens, and they mostly involve digging. Some of them are very short.
'Absolutely OUTSTANDING ... Jon McGregor is a writer who will make a significant stamp on world literature. In fact, he already has ... an incredible book, I just adored it' Colum McCann

'McGregor brings the underclass we instinctively turn away from into razor-sharp and sympathetic focus. A stone cold brilliant achievement' John Harvey

'A rare combination of profound empathy and wonderful writing' Mark Haddon
www.jonmcgregor.com/
Even the Dogs is
available on Amazon in paperback